Home
Uganda Society for Disabled Children
Uganda Society for Disabled Children supports children with disabilities and their parents access the resources and opportunities they need to achieve their full potential and lead fulfilling lives.
What do they do?
Uganda Society for Disabled Children (USDC) provide medical and educational support to individual children, working closely with their families and their communities, as well as partnering with government staff in the health, community and education sectors.
USDC uses an innovative model of working through a national network of Parents Support Groups (PSGs) which enables parents to be more involved in changing the lives of their children. USDC also run Child Rights Clubs (CRCs) and a comprehensive Community Based Rehabilitation (CBR) programme.
Since being founded in 1984, over 250,000 individual children with disabilities have been assisted in their rehabilitation. USDC also does a huge amount of work raising public awareness about disability and lobbying for change. They currently operate in 18 districts raising public awareness, building government capacity and lobbying the government for disability-inclusive programmes and legislation.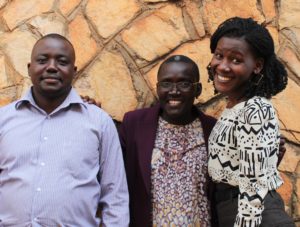 Find out more about USDC on their website
Visit Site
Our partnership
Able Child Africa was initially founded in 1984 as the Uganda Society for Disabled Children (USDC) to support children injured by the Ugandan Civil War in the 1970's and 1980's. For the next 15 years, USDC would be managed from the London office. In 1999, a forward-thinking decision for the time was made by the Trustees that USDC should be locally run, reflecting our values of local ownership and control. A Kampala-based Board was set up, and in April 2000, all management responsibilities and assets were transferred from the UK to Uganda.
USDC Uganda became an autonomous NGO and USDC UK and Uganda became legally distinct, whilst continuing to share similar aims and a close working relationship. In 2007, USDC in the UK became Able Child Africa and began working with additional partners. USDC Uganda became our first and longest-standing overseas partner and we are very proud of what we have achieved together over the many years.
Able Child Africa's capacity building support to my team and their ongoing sharing of ideas has helped us come up with new ideas that we have implemented, ideas that we would not have thought of.

– Dolorence Were, Director at USDC
Other Partner Organisations we work with