We are led by 5 core values in all that we do that define how we work and how we're run.
Inclusion 

We believe everyone should have the same opportunities in life regardless of disability, age, geography or gender.

Collaboration 

We listen to and collaborate with local partners and children with disabilities.

Quality 

We are good at what we do and are passionate about the approach we take.

Courage 

We are bold and agile, with the courage to innovate and take disciplined risks.

Transparency 

We are honest, we act with integrity and we are accountable.
Working Culture, Mental Health and Wellbeing
We really like the people that work for us. They are our best asset and without them, we wouldn't be able to do what we do. We have worked really hard to create a flexible and rewarding working environment that gets the best out of each of them and enables them to deliver the quality of work that we strive for.
But we recognise that the workplace can be a stressful environment. Our staff are passionate about what they do, they work hard and are invested in the beneficiaries we support. All of which can impact on the daily wellbeing of our staff.
We believe that the mental health and wellbeing of anyone that works for us is of primary importance. Selfishly, it is also key to our own organisational success and sustainability. We are therefore committed to promoting positive mental health amongst all our staff and volunteers, supporting those that need it and challenging stigmas against mental ill-health that exist in the workplace.
We are really happy to share our experiences or collaborate with anyone that shares our ambition in this aim.
How We Raise Funds
We are committed to fundraising in an honest and transparent way, putting you, our supporters, at the heart of everything we do. We rely on your goodwill and generosity, so we believe that when you donate your time or money, it should be a positive and rewarding experience.
Our promise to you is that:
We will ensure all our fundraising activities are honest, transparent and compliant with the law.
We will publish clear information about our finances and how we spend your money.
We will always treat our supporters and talk about our beneficiaries with respect.
We will protect any information or data that you give us and only ever contact you in the ways you have given us permission to.
We will always respect you and your decision if you do not wish to donate or support our work.
We do not currently work with or plan to work with any third-party fundraising agencies. Should this change in the future, we will let you know. If we do, we will ensure they are familiar with our values, monitor their work and act swiftly should it fail to meet our standards.
How We Spend Your Money
We are a small charity making a big impact. Being small means we are agile, able to adapt, and most importantly, it means we are able to provide value for money to all our donors.
We work as hard as we can to ensure that as much money as possible goes to where it is needed most. That is why we do not have our own offices and staff on the ground. It is also why we believe in our partnership model, that puts local ownership at the heart of what we do.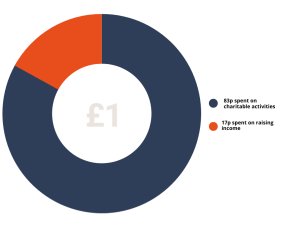 We do spend some money outside of Africa and it is our responsibility to prove to you that we have a role to play, using our expertise built up over 35 years to support local organisations in the countries we work in. We hope and believe there will be a time when we do not need to exist but for now, local organisations are severely underfunded and under-resourced and so we play a key role supporting them improve the lives of children with disabilities.
See our latest Annual Report and Accounts
Read More
Making Mistakes
We fully understand the duty we have to treat our donor's money with care, and we strive to deliver our work in an ethical and cost-effective way. But like everyone else, sometimes we make mistakes. We believe a culture of hiding mistakes is the worst thing for any organisation and while there is pressure for us to deliver the greatest impact with every penny we spend, we firmly believe that we should be honest and transparent when something doesn't work.
We are working with some of the most disadvantaged children in the world, and the solutions to the barriers they face are complex and not easily broken. We take a lot of time and care to come up with locally-led solutions but sometimes they don't work. We believe that this failure is as important to the projects as a success. It allows us to refine what we know and do it better next time.
As an internationally based organisation working to make a change in Africa, we have been on a long journey of improving our understanding of our own impact on our partners and the countries where we work. We work hard to build equitable partnerships with local organisations.
Our Carbon Footprint
While our purpose is people focussed, we all passionately care about the environment too. The problem we have is that, similar to other charities working in international development, our carbon footprint is relatively high compared to the size of the organisation. This is primarily due to the number of trips we take to visit our partners and projects.
While we firmly believe in not having staff in our partner's countries and supporting local organisations to build their capacity to do the work, we acknowledge that this creates a higher carbon footprint.
We will be honest and say this is something we haven't resolved yet. Technology and communication have improved significantly over the last 10 years which allows for easier communication with our partners from the UK and we intend to invest in this going forward as we attempt to make our organisation more sustainable for a more sustainable world.
For now, we are implementing protocols to reduce flights more locally across Europe and creating an environmentally friendly workplace to minimise our footprint where we can.