For too long children with disabilities have been forgotten, hidden and systematically left behind. A key reason for this is that the children themselves along with their parents have been unaware of their rights and disempowered in the fight for justice.
With funding from the UK Government, we joined the fight to 'leave no one behind' in Rwanda, partnering with UWEZO to empower children and young people with disabilities to demand inclusion within the UN Sustainable Development Goals (SDGs).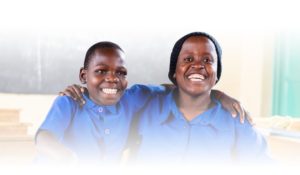 With UWEZO, we developed and implemented a youth-led model, where we trained young people with disabilities to mentor and work with children with disabilities. Through this approach, we have provided a platform to develop youth-led solutions for meaningful inclusion, where the young people themselves become the key advocates for inclusion at the community and government level, campaigning for the inclusion of activities that are designed and driven by young people with disabilities themselves.
The project is, therefore, creating mechanisms whereby young people with disabilities can participate in the development and implementation of policy in Rwanda on a national level.
#WeAreAllAble