A major challenge for young girls with disabilities attending school is having the confidence in managing their own sanitation and hygiene practices.
These fears mean that girls with disabilities are often not in school, and when they are, they are not included in key learning about hygiene, health and reproductive practices.
With funding from Jersey Overseas Aid and in partnership with UWEZO, we have developed a youth-led project to advance the inclusion of girls with disabilities in education in Musanze, a rural area of northern Rwanda.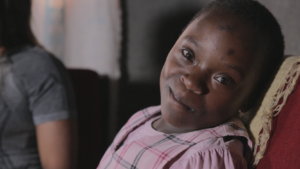 Through the programme, we are working to create a more accessible environment, so that firstly, inaccessible services and facilities are not the reasons why girls with disabilities are not in school. We facilitate simple modifications that make the immediate school surroundings more accessible and train teachers on inclusive teaching methods.
Secondly, we are educating girls about good hygiene and reproductive health practices. The girls are informed of their rights and are provided with hygiene kits to support good practices.
Thirdly, and importantly, we have trained a group of young women with disabilities to become peer mentors for younger girls with disabilities. These mentors provide individual support for those out of school to try and get them into school, and then group mentoring for those who are in school. The mentors play an essential role in protecting the girls by creating a safe space in which to learn and providing a role model to show what is possible.
Crucially, the peer mentors themselves are being trained and collecting evidence through the project, empowering them to advocate for change with the government for disability-inclusive WASH practices and policy.
Through this multi-level approach, we are tackling a complex issue to improve the lives of girls with disabilities in Rwanda and support them into school.
#WeAreAllAble