Stigma is one of, if not the single most significant barrier to inclusion for children with disabilities.
These misconceptions and ignorance about disability mean that most children face a daily battle against discrimination and abuse. Changing attitudes takes time, requiring long-term, innovative approaches that engage people into an idea of change. It is a journey we have been on with ANDY in Kenya since 2013 using the power of sport.
In partnership with ANDY and with current support from Comic Relief, we have developed a model for sports to be used as a route to inclusion: to empower children and young people with disabilities, and at the same time to break the poverty cycle that children and their families face.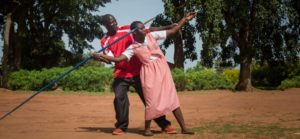 In the programme, children with and without disabilities attend sports sessions and child rights clubs at schools. These sessions consist of adapted activities that allow children with and without disabilities to compete alongside each other. This has a significant impact of breaking down the stigma around disability by bringing children with disabilities into the schools. It also builds relationships between children, irrespective of the different ability levels.
Over the time we have delivered and improved this programme, we have seen that it has improved the health and self-confidence of the children with disabilities; improved their enrolment into school; and improved overall community awareness and engagement in the issue of disability.
#WeAreAllAble