It has been a very busy quarter at Able Child Africa, pivoting current projects to cope with changing needs and developing new projects to cope with new challenges. Read some of our latest updates below.
Schools remain closed in Uganda which means our projects have had to adapt. Teachers from our Comic Relief project have been increasing the level of home-based educational support during home visits to children with disabilities to ensure children are not missing out. They are involving parents as much as possible to encourage them to continue guiding their children, which is particularly important as many children with disabilities are struggling to access remote learning e.g. radio and TV based, whilst schools continue to be closed.
We have had a hugely positive response to our shift towards home-based Early Childhood Development whilst schools remain closed in Kenya. 180 'Parent Champions' have been trained to take a leading role in the early development of children with disabilities. This has included how to provide occupational and physiotherapy support. Our partner ANDY are clearly ahead of the curve, as this shift was later communicated by the Teacher Service Commission as an official priority, with a national teacher-led community-based learning programme now running.
Additionally, ANDY have begun identifying very young children with disabilities and parents in the community to create a cohort of families to be supported for the project duration. This means we'll be able to enrol more children in schools much easier when they re-open. Families are being engaged early and taken on a journey to maximise the impact of the inclusive education project.
Recognising the adverse impact of COVID-19 on children with disabilities, ANDY have also run a campaign focused on inclusive WASH and inclusive remote education methods, with radio broadcasts in addition to a live Facebook interactive discussion as part of a series of live talks to influence listeners.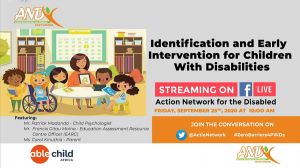 In Tanzania, schools reopened in early July. However, the uncertainty and fear many families feel towards COVID-19 has meant that children have been slow to return to school. Child Support Tanzania staff, teachers and government officials have been conducting home visits to help children with disabilities overcome these fears to get them back into school.
Lots of stationary has been purchased to help give children the tools they need to get back to school. We are also continuing to update and purchase PPE to ensure the safety of all our staff, stakeholders and beneficiaries.
Parents have also been able to reconvene their Parent Support Groups in Tanzania, and have begun to work together again to support their children. This includes acting as community champions and running activities to educate other parents and community members on the specific needs of children with disabilities during COVID-19.
In Rwanda, our Lead Youth Disability Advocates (LYDAs) have continued to provide one-to-one home-based mentoring support for children with disabilities, with heightened consideration for children's safety and wellbeing, in addition to learning exercises to support their home-based education.
LYDAs have been documenting learnings that evidence best practices for children with disabilities' inclusion during a pandemic. Whilst schools remain closed, the Rwandan government has been focusing on building new classrooms and toilet blocks in several schools to improve children's safety and LYDAs have capitalised on the opportunity to influence the accessibility of these new structures to ensure all children will be able to access them.
We are also working with a designer to create an inclusive comic book with COVID-specific hygiene information, that will be printed in accessible formats, including braille, and distributed to children with disabilities as part of the project.
Whilst the ongoing effects of Covid-19 and varying lockdowns is making our work extremely difficult, we are working very closely with our partners to adapt and prioritise to make sure children with disabilities are not left further behind from this pandemic.
#WeAreAllAble